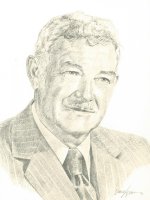 W. Ernest Burton
(1907 - 1989)
Inducted in 1995
Origin: Prescott & Russell United Counties
Nominated by: George Nicholson
Specialty: Livestock - Sheep, Livestock - Dairy, Livestock - Swine, Politics
---
Ernie Burton represents a strong tradition in rural Ontario. A Yorkshireman from a three-generation family farm, he immigrated to Vars, Ontario in 1927. Purchasing Steeton Stock Farm, Burton began a long career of purebred livestock breeding in cattle, swine and sheep for which he became a recognized leader locally, provincially and nationally.
W. E. Burton was committed to excellence in animal agriculture. For more than forty years, 1930-1970, he actively contributed to the development of youth in agriculture as a host to members of 4-H, Junior Farmers and agricultural exchange students. A member of the Russell Agricultural Society from 1931 until the time of his death, Ernie Burton's leadership abilities were recognized during his two terms as President. Acknowledged by his peers across the industry, he was a director of the provincial swine and sheep breeding associations, as well as the Canadian Sheep Breeders and Holstein Association of Canada during the 1950s. A competitor and judge, Burton participated in local, regional and provincial fairs, and was elected President of the Ottawa Winter Fair and later the Central Canada Exhibition.
W. E. Burton's political career was dedicated to community development. In addition to being a founding Director on the Board of the Children's Hospital of Eastern Ontario, he served as Deputy Reeve and for nine years the Reeve of Russell Township guiding many municipal infrastructure projects. His contributions as Warden of the United Counties of Prescott-Russell and President of the South Nation River Conservation Authority are commemorated in the naming of a recreation area and a township boundary road in his honour.
Recognized as a strong thread in the fabric of Canadian rural society, Ernie Burton received many awards for his outstanding service to agriculture as well as the Ontario and Canadian Centennial medals in 1967 and an Ontario Bicentennial Award in 1984.