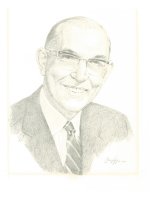 Wesley Gardiner Thompson
(1894 - 1968)
Inducted in 1993
Origin: Kent County
Nominated by: Ontario Grain and Feed Association
Specialty: Crops, Politics
---
Tommy Thompson was an innovator. Some of Ontario's greatest crop handling techniques and mechanisms were developed and implemented under his watchful eye. The "continuous flow" poured concrete silo, shellers and dryers for commercial corn and the "electric eye" sorting machine owe their place in Ontario agriculture to him. The legacy of Mr. Thompson's keen and fair business sense can be traced through the origins of Ontario's white bean export market, the Producers Advanced Sales contract and two private family corporations, W. G. Thompson and Sons Limited and Hyland Farms Limited.
Elected to represent East Kent in the Ontario Legislature in 1943, he became Minister of Lands and Forests. Tommy Thompson kept agriculture in his sights during his political career, refining marketing board legislation, introducing changes to the Grain Storage Act and grading system, and was a leader in formulating the first Ontario Elevator Storage Act.
Mr. Thompson's community involvement included the Rotary Club and Masonic Lodge. He also served on the Blenheim Town Council. Considered by those who know him well to be a quiet philanthropist, he worked to establish Ridgetown College of Agricultural Technology and supported both the Blenheim and Ridgetown High Schools. In 1989 Tommy Thompson was inducted into the Kent County Agricultural Hall of Fame.