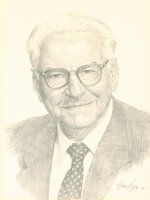 William Atcheson Stewart
(1915 - 1991)
Inducted in 1992
Origin: Middlesex County
Nominated by: Byron Beeler, Gordon Bennett, Everett Biggs, Bob Carbert, Henry Davis
Specialty: Politics
---
Born and raised in Middlesex County, Bill Stewart was a fearless politician and leader who took many political risks in the interest of what he considered good for the agricultural industry.
First elected as a Member of the Provincial Parliament in 1957, Mr. Stewart represented the constituency of Middlesex North until his retirement in 1975. After serving as Chairman of several committees, he was appointed Ontario's Minister of Agriculture in 1961.
Among his many accomplishments, Bill Stewart was responsible for several important legislative programs including the Milk Act, 1965, the Provincial Meat Inspection Act, the Crop Insurance Act and the University of Guelph Act, 1964. Also, while Minister, he established the Agricultural Research Institute of Ontario, Ontario Food Council, Ontario Farm Machinery Board and Veterinary Assistance Policy for Northern Ontario, in addition to many other important programs and policies. Nationally, he spearheaded the development of marketing programs for dairy under the Canadian Dairy Commission Act and for eggs, turkeys and chickens under the National Farm Products Marketing Act.
Mr. Stewart served as Director of several companies, the Royal Agricultural Winter Fair and as Chancellor of the University of Guelph. In recognition of his contributions to agriculture, he was conferred an Honourary Doctor of Laws Degree from the University of Guelph in 1976 and from the University of Western Ontario in 1978.
Truly a visionary, Bill Stewart conceived the establishment of the Ontario Agricultural Museum.