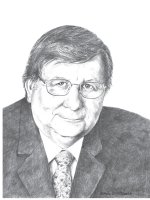 William Barry Hill
Year of birth: 1943
Inducted in 2018
Origin: Brant County
Nominated by: Ontario Soil and Crop Improvement Association
Specialty: Agri-business, Co-operatives
---
Barry Hill earned his Masters Degree in Mechanical Engineering at McMaster University in 1968 and began his first career with Ontario Hydro. He farmed part time on his family farm near Ohsweken starting in 1978, and in 1993 he returned to farm full time growing up to 2600 acres of corn, soybeans and wheat.
In 2000, Barry was instrumental in the formation of the First Nations Agri Group Cooperative, designed to provide purchasing power for crops and livestock inputs for his and twenty other farms. It was seen as a model for other First Nations communities across Canada.
From 2003–2011, he was a Board member of the Ontario Soil and Crop Improvement Association (OSCIA) and President in 2010, where he contributed to the continuation of the Environmental Farm Plan and the establishment of the Canada-Ontario Farm Stewardship Program. At that time, he also created the OSCIA Scholarship Fund with the University of Guelph which has led to a grant of up to $10,000 per year for a graduate student researching soil health.
In 2002, Barry Hill was a founding Board member of the Integrated Grain Processors Co-operative for the production of ethanol. The Aylmer plant went into full production in 2008, and 2017 saw an expansion which doubled its production of ethanol to 400 million litres, added electrical cogen capacity and allowed the extraction of corn oil for bio diesel production. It is the largest start-up co-operative in Canadian history.
Barry has also provided his business expertise to over 400 businesses through the Two Rivers Community Development Centre. This Centre works with businesses, many of them agricultural, in the Mississaugas and Six Nations communities and is also a model for other First Nations communities in Ontario and throughout Canada.
In 2017 he was the recipient of the McMaster Alumni Gallery Award and in 2017, he was honoured with a 150 Canada Award in Brant County.
Barry Hill's contributions to agriculture in Ontario are through his insightful leadership of organizations at the provincial level, and the development of exciting new initiatives for agriculture and economic sustainability within First Nations communities. He is certainly a most deserving inductee into the Ontario Agricultural Hall of Fame.