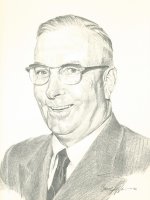 William E. Breckon
(1893 - 1985)
Inducted in 1986
Origin: Halton Region
Nominated by: Ontario Soil and Crop Improvement Association, Halton Federation of Agriculture and R.W. Carbert
Specialty: Crops, Crops - Grain, Livestock - Dairy
---
William Ernest Breckon was an outstanding example of dedicated rural leadership. A grower of registered seed grain for 15 years, he was the founding President of the Halton Crop Improvement Association, becoming its President in 1942. In 1964, he was named "World Wheat King" at the International Show in Chicago. Mr. Breckon served as a Director of the Royal Winter Fair for 7 years and Chairman of the Field Crops Committee for 3 years. The Canadian Seed Growers made him a Robertson Associate in 1956.
A Jersey breeder, he was a Director and later Chairman of the Toronto Milk Producers' Association, and a founding member of the Ontario Whole Milk League. He operated his own dairy at Bronte from 1933 to 1938.
He was an active member of his community, serving the Township School Board for 13 years. In Burlington, a new school and park were named in his honour. He served his local church throughout his lifetime, laying the cornerstone for the new building.
Mr. Breckon was a keen collector of material from Ontario's past and his collection of nearly 1,000 items was donated to the Ontario Agricultural Museum where it remains an important and valuable collection.