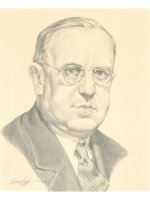 William J. Bell
(1876 - 1935)
Inducted in 1982
Origin:
Nominated by: Kemptville College of Agricultural Technology Alumni Association
Specialty: Crops - Forages, Education
---
A native of Dufferin County, "W. J." Bell graduated from the Ontario Agricultural College in 1915 and joined the Ontario Department of Agriculture as an extension worker. His efforts in organizing Farmers' Institutes and demonstrating improved livestock and cropping programs were recognized by the Department of Agriculture in 1917 when he was appointed the first Principal and Farm Manager of the new Kemptville Agricultural School. For 18 years, Professor Bell guided and inspired the school, establishing a faculty that was to benefit thousands of Eastern Ontario farmers and their families. A practical farm manager, he moulded the Kemptville Agricultural School farm Into an important demonstration area. He travelled throughout Eastern Ontario encouraging young people to enrol in the School, and the list of graduates is a Who's Who" of the industry.
In great demand as a livestock judge, he especially loved good Clydesdale horses. His persistence in promoting a new legume crop, White Sweet Clover, earned him the name "Sweet Clover Bell".
Professor William James Bell became an agricultural legend in Eastern Ontario but his influence on the industry had no boundary.