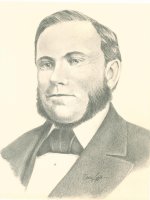 William Johnston
(1848 - 1980)
Inducted in 1980
Origin: Northumberland County
Nominated by: Ontario Agricultural College Alumni Association
Specialty: Education
---
William Johnston was the founder of the Ontario Agricultural College, coming to it as rector and acting principal in its first, troubled year. His father had come from Scotland to teach near Coburg and young William was himself teaching by the age of 15. He was aiming for the Presbyterian mission fields when he was persuaded to accept the Guelph position in 1874.
Within two years he was principal; he was also registrar, dean of residence, comptroller and he gave lectures as well.
A forceful advocate of education for farming, he proposed a three year degree course and shorter diploma course for farm boys. He advocated regional agricultural middle schools and agricultural courses in elementary schools. In his five years at O.A.C., he turned the College from a subject of controversy and ridicule into a popular institution with 9,000 visitors in six months in 1879. That year Mr. Johnston resigned to the practice of law but his health failed. He died at only 37 years of age.