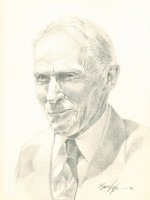 William Richard Graham
(1875 - 1958)
Inducted in 1986
Origin: Hastings
Nominated by: Ontario Agricultural College Alumni Association
Specialty: Education, Livestock - Poultry
---
In 1894, W. R. Graham, who was originally from a prominent dairy farm family near Belleville, Ontario, graduated from the Ontario Agricultural College at Guelph. The same year that institution created the first Poultry Department in North America. By 1899, "Prof" had become Head of that Department, a post he was to hold for the next 41 years.
Through his research, lectures, publications and students, W. R. Graham became the father of the modern poultry industry, changing it from one of small nondescript farm flocks and fancy breeders into a specialized egg and meat producing industry. He pioneered bred-to-lay flocks, the poultry feed business and egg quality controls.
He was the first President of the Poultry Science Association and helped create the World Poultry Science Association.
His work has been widely recognized: a Doctor of Science from the University of Toronto in 1939; a Fellow of the Poultry Science Association and of the Agricultural Institute of Canada, as well as a place in the American Poultry History Society's Hall of Fame and the Canadian Agricultural Hall of Fame. Posthumously, he was given the Ontario Poultry Council Award of Merit.
At Guelph, the building he worked in for so long is now named Graham Hall and over the door are the words "He taught men to think".