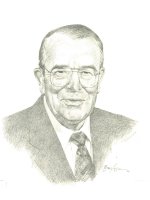 William Schouten
(1922 - 2001)
Inducted in 2006
Origin: Ottawa-Carleton Region
Nominated by: Garnet A. Ralph
Specialty: Livestock - Dairy, Organizations, Politics
---
Bill Schouten immigrated to Canada in 1952, arriving nearly penniless and with little command of the English language. He found work as a herdsman and in his spare time started a small cattle dealing business. In 1953, he had saved sufficient money to purchase an operating farm in Malakoff. Two years later he sold that farm to his brother and bought an operating farm next door, now known as Corner View Farm. It was there that he would build his farming future with his wife and children. He started this farm with 50 cows and a nine-can quota.
Bill Schouten became a Director and President of the North Gower Farmers Co-op and in the mid 1960's he helped rescue the Co-op from the brink of bankruptcy. He also served as Director of the Carleton County Soil and Crop Improvement Association, becoming a Director. In 1966, he and several of his neighbors became concerned about the unreasonable milk transport costs. He urged them to form a Co-op to transport their own milk. The Carleton Milk Transport Co-op was thus formed with Bill as a founding Director and later he served as President for 5 years.
On December 5, 1968 disaster struck. Bill lost his left hand in an auger of a corn picker. With his sons accepting more of the day-to-day operation of the farm, and having adapted to his physical handicap, Bill found more time to pursue off-farm agricultural interests and challenges. He became a Director of the Ottawa-Carleton Federation of Agriculture and served as President for six years. He also acted as Director of the Ontario Federation of Agriculture for two years. Bill was also President and Director of the Richmond Agricultural Society, Chairman of the Carleton, Renfrew and Lanark Farm Labour Pool and Chairman of the Ottawa-Carleton Milk Producers Association. In May of 1980, he was elected as a Director of the Ontario Milk Marketing Board, representing Ottawa-Carleton, Renfrew and Lanark (Region 3). He was acclaimed for two additional terms, for a total of ten years on the Board.
Bill and his wife were chosen to Co-chair the County Exhibit Committee at the 1983 International Plowing Match and Farm Machinery Show. It showcased the productivity and diversity of the agricultural industry in Ottawa-Carleton and displayed the cultural talent of its residents. In September of 1991, the public was invited to visit the Schoutens' new 100' by 216' free stall barn, with the capacity to house 300 cows and to examine their new milking parlour which featured a double 14 parallel system. The milking parlour was fully automated with all production information about each cow stored on a computer.
Bill Schouten was renowned for the enormous assistance he provided to fellow immigrants to get them started in agriculture. He was elected to the Rideau Township Municipal Council in November 1980. He campaigned on the theme "farmers need a voice" and during his 11 years in office he represented them and his greater community with diligence. Bill was extremely innovative in finding ways to finance projects and in maximizing the value of a dollar spent. During much of his term on Council, he chaired the Protective Services Committee, which was responsible for fire protection services. He also had a keen interest on road maintenance, bridge construction, community centers and municipal drains.
In 1963, Bill Schouten was voted the 4-H Father of the Year for his County, and then in 1983 he received an Award of Merit from the Eastern Ontario Soil and Crop Improvement Association for his outstanding contribution to the general welfare of agriculture in Eastern Ontario. In 1988 Bill received a Certificate of Merit from the Ministry of Agriculture and Food for his outstanding contribution to agriculture in Ottawa-Carleton.