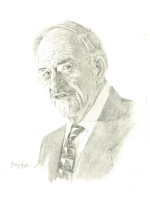 William Thomas Ewen
(1910 - 1996)
Inducted in 2001
Origin: Wentworth County
Nominated by: Class of 1967A, Ontario Agricultural Collage
Specialty: Crops, Crops - Soils, Education
---
 William Thomas Ewen, who was raised on a market garden farm in Wentworth County, influenced agriculture through research, teaching in the classroom, correspondence courses, meetings and farm visits. His career was centered in Ontario, but his influence spread through students and alumni to many countries.
Bill's early work applied chemistry to develop rapid soil tests for plant nutrients such as potassium, phosphate, calcium, magnesium and nitrates. He also studied seed setting in alfalfa and alsike clover and water core in turnips. He conducted research into nutrition of tomatoes, peas, corn, peppers, and okra and investigated sources of nitrogen for corn, rye, wheat and bluegrasses. Bill Ewen searched for the causes of lodging in spring grains, and failures of sweet clover to establish.
Bill Ewen supervised the operation of the Soils Advisory Service in Southwestern Ontario, working with extension personnel in all counties. He held meetings, called on farmers, completed farm plans, guided soils clubs and held soil management courses emphasizing crop rotation, land use planning, pasture use, soil analyses, proper application of manure and fertilizer. Professor Ewen began teaching soils at the Niagara School of Horticulture and then taught Soil Science courses for 25 years to generations of Associate Diploma in Agriculture and Farm Mechanics students at the OAC, University of Guelph.
He was elected honorary president for five graduating classes from the OAC Diploma program. He counselled many during and after their college careers on professional and family matters. Bill was known far and wide for his genuine interest in graduate's welfare and success, whether they served the industry in Canada, USA, Mexico, Bahamas, Jamaica or elsewhere.
Bill Ewen and his spouse Anna sponsored several international students at the OAC and left a significant scholarship legacy to the university.